Eicher Family Adoption : Bulgaria
---
Meet Archie! The namesake of The Archibald Project! Archie's adoption inspired another family to adopt and thus began our orphan care, advocacy nonprofit!
In March of 2011, Whitney Runyon, cofounder of The Archibald Project, reached out to an old acquaintance, Lisa Eicher, (soon to be Archie's mom) to ask if she could photograph her 2 year old daughter. One thing led to another and as the photoshoot was ending Whitney asked the natural question, "Are you guys going to have more kids?". Lisa slowly mentioned that they were actually in the adoption process. "And that's when it happened, that's when I knew. It was as if the clouds parted and I heard, 'you're supposed to go to Bulgaria and photograph their adoption'." Recalls Runyon.
4 months later, in August of 2011, Whitney and Nick Runyon were on a flight with the adoptive father to Sofia, Bulgaria to document their very first adoption story! After the quick trip was over and photos were edited, Whitney put them on her personal social media because she thought "they were too powerful to keep to myself." A few weeks later Runyon received an email from a woman she didn't know sharing that, "because of your photos my husband and I are now adopting a chronically ill 5 year old from Ukraine." 
And thus, The Archibald Project was created, and rightfully named after little Archie (full name Archibald) Eicher!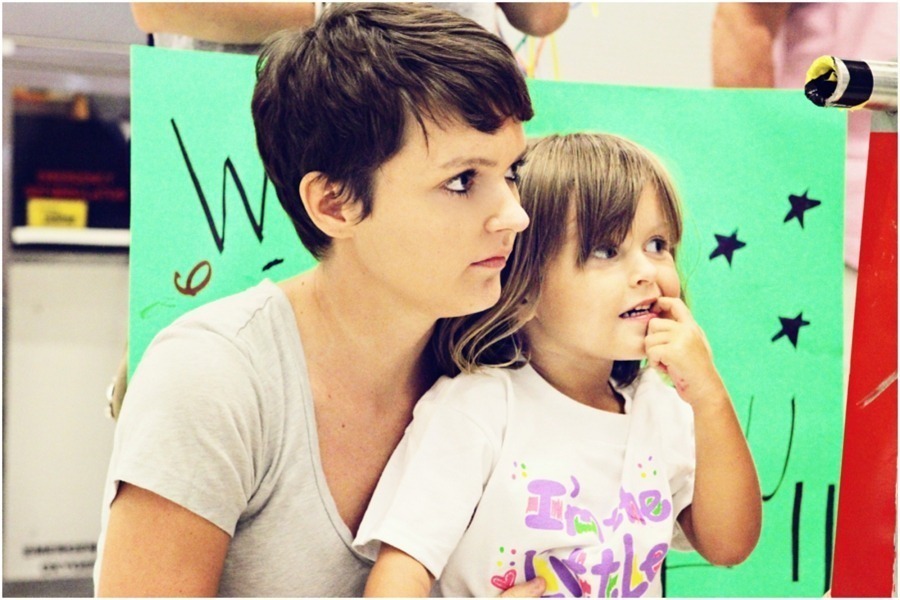 ARCHIE'S 6 MONTH UPDATE
February 14, 2012 
This post is so special for me to write. Archie, from whom our name, The Archibald Project came from, was our very first adoption to photograph. Six months ago today, Archie and his father, Joey, landed at Bush Intercontinental Airport. This day forever changed the lives of the Eicher family. They were no longer 3, but 4.
I was able to interview Joey and Lisa today and so many smiles were brought to my face, as I'm sure will be to yours. If you have had the privilege of meeting Archie, you know this child is a pocket full of sunshine, always smiling and infecting others with a grin.
When I first rounded the corner at Archie's orphanage I saw him standing there, waiting for his mom and dad. He didn't run to me thinking I was mommy, nor did he run to my husband. But when he saw Joey, he knew, 'this is my daddy', instantly went to him and exclaimed, "papa!". I laughed and cried as Archie showed the 3 of us around his home, totally in awe of his spunk and excitement. On the 3 hour drive back to Sophia from Kazanlak so many thoughts raced through my head. "How is he going to adapt? What is he thinking right now being in a car with 5 strange adults? Will he do well on the flight? Will he be able to communicate when he gets to Texas? Will his spunk and happiness change once his new life sets in?", obviously the questions went on and on.
Now, 6 months after the easily romanticized adoption trip and airport pictures, I'm so happy to say, and see, that Archie has flourished being at home with Mama and Daddy and sister. His spunk and excitement for life have only intensified!
Below are pictures that I took and a short interview for Archie's 6 month update, we hope to be able to do this with all of our adoptions. Enjoy!
What are 3 words that best describe Archie?   Hilarious. Joyful. Sweetheart.
How does Ace describe her big brother?     "Archie is the best brother and the funniest brother. I love to play games with him. I am so happy cause he's in my family."…Ace is over the moon for her big brother. She loves him so much. They get along so incredibly well.
Joey, how would you describe your son?      Well, he is a happy kid ALL the time. Except when daddy (instead of mommy) takes him to the bathroom. His smile is so contagious. He really is the type of kid that teaches you something new about yourself everyday, sometimes more than you want 🙂 He eats a lot and loves milk and apple juice. If he ever thinks you're sad, then you'd better forget about whatever it is you're sad about because he loves so much…to the point where he'll worry about you until you are happy again. He loves his friends and complete strangers. He prays (and understands it) before every meal and loves it. He is not shy about being who he is and never worries about what others think of him. He is the perfect brother and cherishes every second spent with Ace. They are best friends. He loves all three Toy Stories and pretty much every movie. Its funny because when he is watching Monsters Inc., he hides from the "scary" parts until Ace tells him its 'ok'. He trusts Ace with his life and would do anything to protect her and make her happy.  ANYTHING!!!
Sometimes I wonder why I have been blessed to have such a perfect child, but God knows exactly what he's doing.This boy has taught me patience and more about myself than I could have ever known!
If you had to pick one, what would you say is your fondest memory of Archie?      Watching Ace and Archie hug and just embrace each other at the airport when Archie arrived home. It solidified everything for me. This was our son. This was her brother. It was one of the greatest moments of my life. (see above photos!)
Funniest?     Oh man we have had quite a few funny moments. I have to go back to the airport again. When Archie first stepped through the doors and into the lobby where tons of people were waiting for their loved ones,  Archie was sure they were all there to welcome him. He waved to the crowd and even took a bow. It was like he was a little celebrity. The crowd cheered and he had the biggest grin on his face. It was hysterical.
Most frustrating?     The most frustrating times have been more recently, since Archie started public school. He started acting out at school, clearly trying to tell us that he was not comfortable in his setting. It wasn't so much that we were frustrated with Archie or his behavior, but more so with not being able to create the perfect environment for him. Since then we have come up with a new plan at his school and he is doing great!
What about your biggest praise?     His English and communication. It is absolutely astonishing how quickly he started speaking English. I was so worried about the language barrier when he first came home, but it has really never been an issue. Even if he can't find the words, he figures out a way to communicate his needs very well. He is now speaking full on conversational English. Is it perfect? No. But I understand him.
Has parenting a boy changed or effected your marriage?     I would say we have more patience (most days). We are also often exhausted. We give everything we have to our kids throughout the day, and don't have much left by the end. But we know that this is just a season. While most days we at least try to take a few minutes to connect and talk before we go to sleep, we are also okay and understand if one of us is running on empty and just needs to be still and quiet.
A list of Archie's favorite things ♥
Food: Macaroni and Cheese or as he calls it, "croney cheese"
Movie: Toy Story 2
Word: Happy
Activity: Taking pictures
Outfit: Anything pink, or a football jersey. Quite the opposites!
Archie's 2 Year Adoptiversary
August 6, 2013
Today is a special day.  Exactly two years ago, the Eicher family adopted a little boy named Archie.  This day is significant in the lives of the Eichers, The Archibald Project, and so many people past, present and future.
For us, Archie is the namesake of The Archibald Project.  His adoption story showed us that his story and others like it carry a magnitude and importance far beyond what we could have imagined.  Without his family, his story, and the gospel it represents, we would not exist.
For myself and everyone else, Archie has been an emblem of joy and wonder.  Most people that cross his path immediately fall in love with him.  He is so accepting and loving of everyone he meets.  There is something about him that just puts a smile on your face.  But the most beautiful part is that he has no idea.  Archie is just being himself.  He is not trying to impress anyone.  He is not trying to get people to like him.  Whether knowing it or not Archie embraces who God made him to be, and it is exactly what is needed.
Reflecting on these moments and memories reminds of the feelings I had when we were traveling to get Archie.  I remember thinking, "I can't believe they are adopting a special needs child, this is crazy and so scary."  I'm sure I'm not the only one who had those feelings.  I don't think they were wrong, but they were based on fear and the unknown.  It is natural to fear what we don't know, but we can't let that fear control our decisions.  I am so grateful that the Eichers were not controlled by that fear.  And now, two years later, it is scarier to think about them never adopting Archie in the first place.
Like with any child, the Eichers have their struggles with Archie, and some of those struggles are directly related to his special needs.  But I know that they are infinitely more joyful because they followed the path God was leading them down.  Not everyone is supposed to adopt a special needs child, but don't dismiss the idea just because it is foreign and scary.  Archie is living proof of how a life that once seemed so insignificant can have such a huge impact on the world.
-Nick-